360º cameras for real estate
Any sector in which a technological base can be added will have growth prospects. Real estate is no exception, and incorporating techniques that improve access to properties for rent or sale from portable or, even better, mobile devices is the best way to attract customers in the 21st century.

One of these innovative techniques is the presentation of properties through virtual tours, something that can be achieved through 360º cameras for real estate. It is a simple method to implement and cost-efficient, that will serve not only to attract, but also to convince those who are looking for and want to find the ideal home.

Below, we will highlight everything you need to know about 360º cameras for real estate and how they will help you increase your client portfolio.
INDEX:
1. What are 360° cameras and how can you make the most of them for your real estate?
2. What you should know about 360º cameras
3. Why do you need a 360° camera for your virtual tours?
5. 7 recommended optimal 360º cameras for real estate use
6. How to use 360º cameras for real estate
7. Which 360º camera would work for my real estate agency?
8. Advantages of 360º cameras for real estate
1. What are

360° cameras

and how can you make the most of them for your real estate?



A 360° camera is a device that has been designed to

capture panoramic images

. The difference that you will notice with respect to other video cameras, is that this device has

two wide-angle lenses

placed one behind the other. Therefore, when the camera is operated, one lens takes a snapshot of what's in front and the other of what's behind.

The result is two round images which, through the stitching process carried out by

specialised software

, are combined together to create a single snapshot. The captured images can be used to go beyond the virtual tour and

create a virtual reality visit.



If a person watches the video through VR glasses, it is almost as if they were in the house and they can walk through every corner of the house

without missing a single detail

. To get the best possible result and so that the viewer does not miss anything, when using the 360° camera it is advisable to

place it at a height of 1.70 or 1.80 metres

. This way you get an image as close as possible to what the viewer would see when visiting the property in person.
2. What you should know about 360º cameras

These devices are becoming smaller and lighter, which makes them easier to work with. However, you can also mount them on a tripod to make operation even easier. They are very easy to use. Although their technology is more advanced than that of a normal photo or video camera, they are still camera or camcorder, they work in much the same way.

The specialised software allows you to convert the captured images into both video and virtual reality content.

Its application in real estate marketing is becoming increasingly common, which has made creating a virtual tour of a house has become more cost-effective.
3. Why do you need a 360° camera for your virtual tours?

The real estate sector has proven to be one of the most permeable to digital transformation. For more than a decade now, the majority of this sector has had an online catalogue. In fact, many of them no longer have physical establishments and do all their dealings with clients remotely.

Real estate agencies were pioneers in their time and are still pioneers today. Some of the latest developments to arrive are virtual tours and visits to properties in virtual reality format, something that is possible thanks to 360º cameras for real estate agencies.

Those looking to buy or rent a property are becoming increasingly selective when it comes to investing time in property viewings. Therefore, before travelling and having to make time in their schedule for a visit, they prefer to get as real an idea as possible of the state and distribution of the house.
4. Purchasing criteria
When purchasing a device of this type, there are several factors that are important to take into account:

- Its functionality
- The distance between the lenses (the closer they are, the less you will notice the union of the images).
- Image quality. Many models allow you to record at 4K and some even at 5.7K.
- Internal storage capacity.
- Connectivity so you can send images to another device without the need for cables.
- Battery capacity and options such as quick charge or removable battery.
5. 7 recommended optimal 360º cameras for real estate use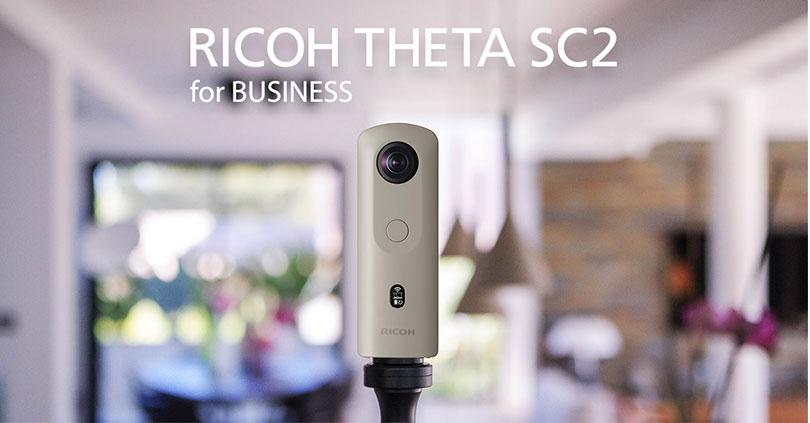 Easy to use, the THETA SC2 for Business allows any beginners to capture high-quality 360-degree images.
Specially created for business activities, THETA SC2 for Business is the tool which will help you to immerse your collaborators and customers into your projects.
Aside from the unlimited possibility it gives to viewers and content creators; it encourages engagement and, through this, has over 3 times the conversion rate of traditional video content and a 30% higher repeated view rate. The RICOH THETA SC2 for Business snaps photos at approximately 14 megapixels with smooth, immersive 360° spherical video at 30 fps (frames per second) in 4K (3840 × 1920 pixels).
If you are looking for a good quality camera for a low price, this camera is for you!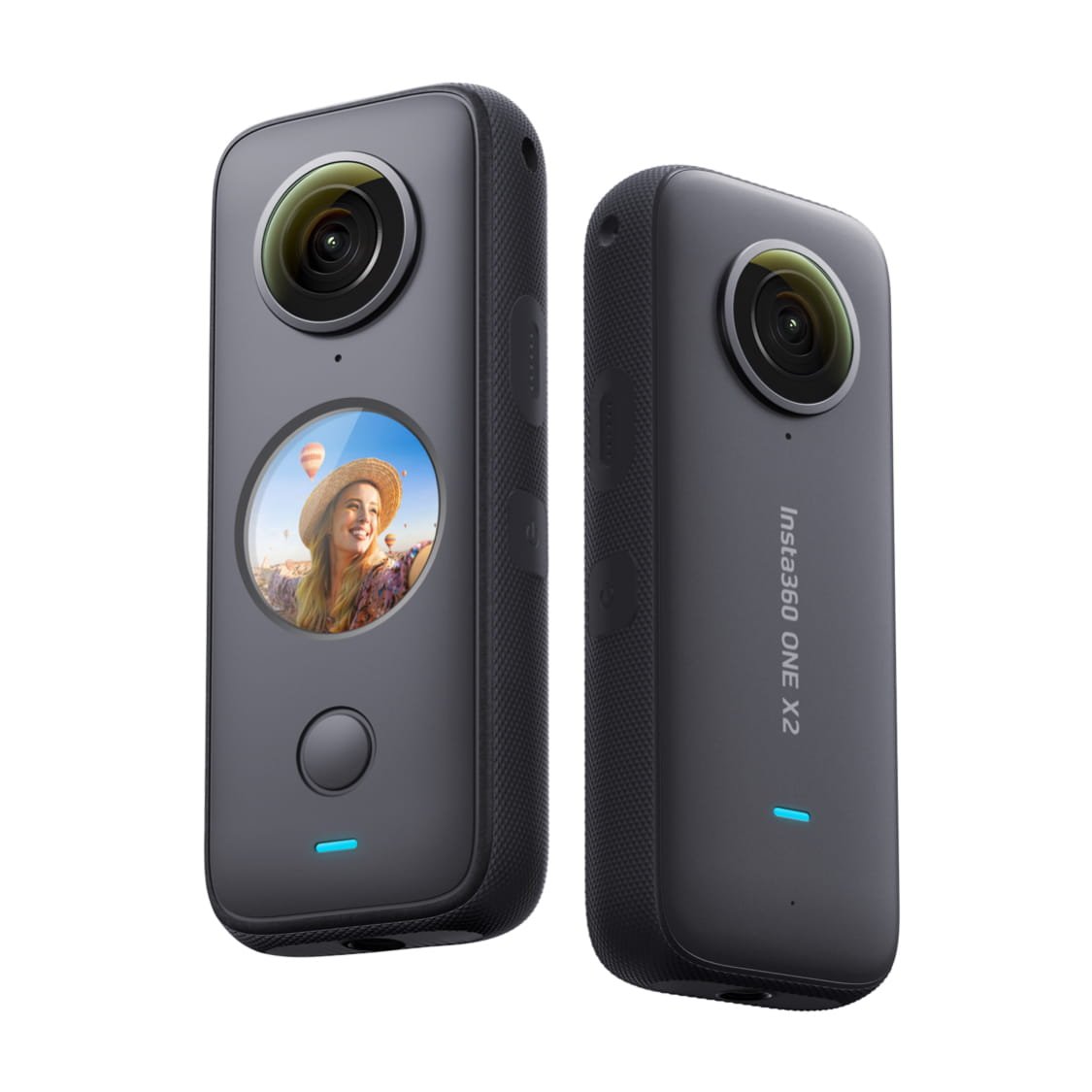 The Insta360 ONE X2 is a worthwhile upgrade to one of the most popular 360 cameras on the market. It is very well built and simple to operate. It's also a great looking device with a really nice design aesthetic.

The Insta360 ONE X2 boasts an official IPX8 waterproof rating, a higher bit rate for recordings and even a larger battery - these are just a few of the many improvements that come with the Insta360 ONE X2.
This camera has the perfect balance between quality and price.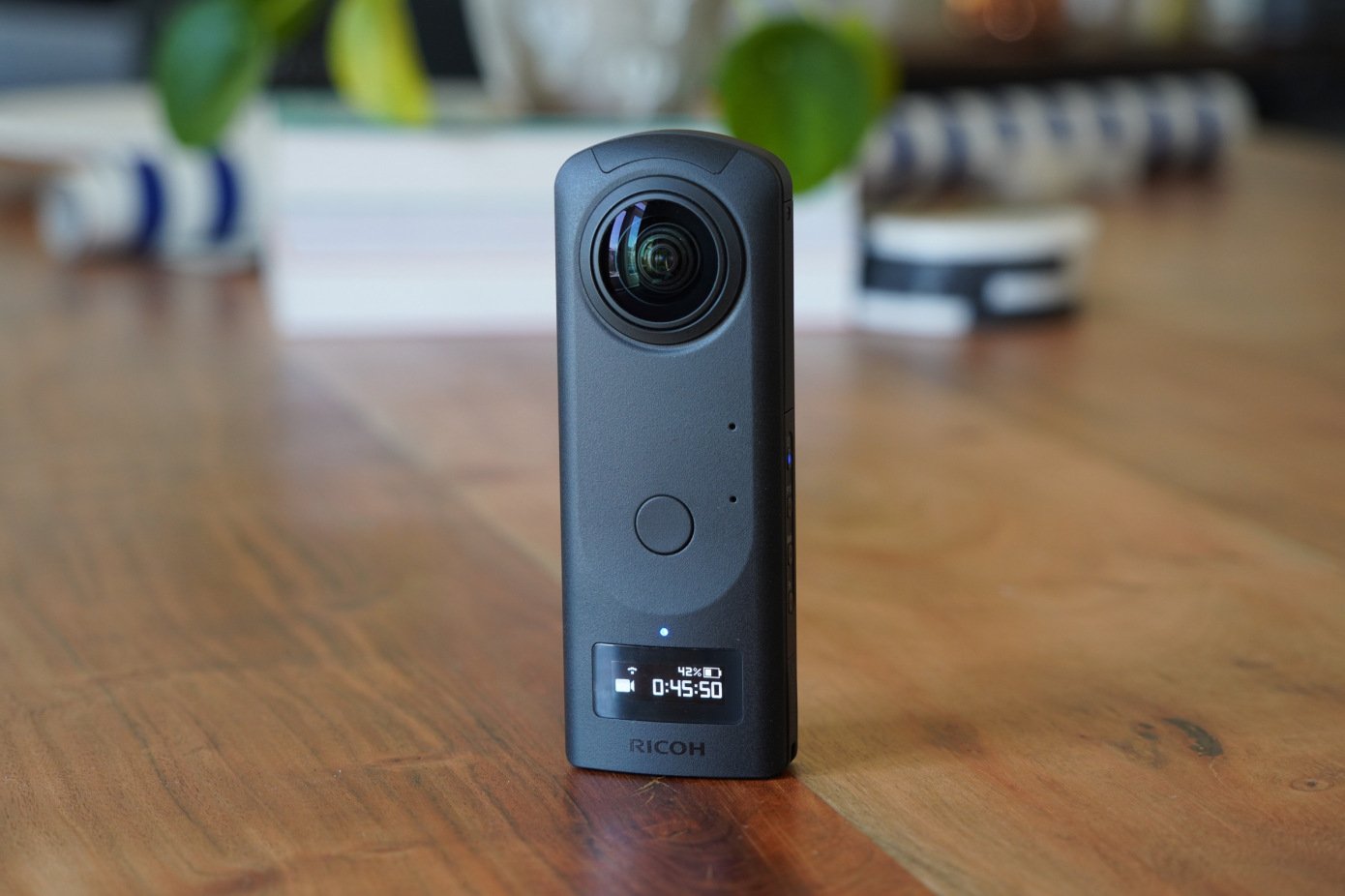 The RICOH THETA Z1 is the flagship model in this series, in which Ricoh has deployed exceptional optical and image processing technologies, cultivated over years of high-performance camera development, to achieve its highest resolution and quality to date. The compact main body is equipped with a 1.0-inch back-illuminated CMOS image sensor, enabling 360-degree still images with a resolution of approximately 23 MP.
It supports a wide range of shooting modes, such as aperture priority, allowing users to take high quality images regardless of the environment: outdoors, at night, indoors, on tropical beaches or in snowy mountain views - nothing is off limits. In addition, remarkably smooth and immersive 360-degree movies can be recorded in 4K (3840x1920 pixels) and at 30 frames per second (fps) thanks to powerful 3-axis rotational stabilisation to compensate for rotational shake.
The Ricoh Theta Z1 has a high price tag but it is a very high quality camera.
Currently, one of the brands that offers the best value for money to its users is Ricoh. Specifically, its Ricoh Theta SC model offers 12 MP for images and 1080p for videos, in addition to working when connected to WiFi, and holding space for 260 photos.
It also includes components that are suitable for capturing images of properties in 360º with a changeable shutter speed that automatically adjusts the balance of white and light tones. Something more than adequate considering that we recommend that all the windows and lights of the house are opened.
In short, it is a camera that collects everything necessary and has every function needed to use Floorfy; its price and versatility are equally attractive.
In the following link you can see a 360º tour with a Ricoh Theta SC
Continuing with the Ricoh brand, the Theta V model offers a slightly higher image quality than its companion Theta SC, with 14 MP for static images and 4k for videos. It also incorporates 4 microphones that make up a 3D audio recording technology for sound effects and the option to broadcast videos that are being recorded live while maintaining 4k quality at all times.
It stands out for its speed when taking pictures and for the notable improvement in the quality of its 360-degree videos, however, this is not a necessary resource to create virtual visits, so your purchase will depend on what you wish to use it for.
In the following link you can see a 360º Tour with Ricoh Theta V
We are talking about 360º cameras that are suitable for real estate agencies, which means that they have a high enough quality and versatility to collect images from all perspectives that we will be later uploaded to create the virtual tour. But if you want a camera that in addition to fulfilling this purpose, which also serves for other more complex functions - such as sports practice or any terrain of 360° photography - the Insta 360 ONE X has everything you need and more.
Sporty in concept, just as the famous GoPro was created in the field of digital photography, the Insta 360 ONE X stands out for its robustness and its magnificent integrated image stabiliser, which can prove to be very useful in real estate if a tripod is missing.
A 7k resolution and 18MP completes the characteristics of a camera full of functionalities at a price that is somewhat higher than others.
In the following link you can see a 360º Tour with Insta 360 ONE X
Under the prestige of the high-quality South Korean brand, Samsung offers us in the field of 360º cameras a model that stands out for its simplicity without affecting its performance.
With 15MP for static images and 4k for videos, it stands out for its compact nature, designed to be incorporated into the smartphone's camera, as well as being the least expensive yet 'reliable' model in the field of 360º cameras.
One disadvantage of this camera is that it must be incorporated into a smartphone (which must be a high-end Samsung model if you wish to avoid compatibility problems), this therefore reduces its stability and makes the use of a tripod even more necessary for capturing quality images. The definition of MPEG4 video is also not known for being high-quality either.
In the following link you can see a 360º Tour with a Samsung Gear 360
No matter what choice you make after researching each camera, it is guaranteed that all cameras are compatible with the Floorfy software and you will have at your fingertips the possibility of offering your clients the most innovative system there is to present properties with.
6. How to use 360º cameras for real estate
To get the most out of the virtual reality software, you only need a compatible 360° camera and an image editor to upload them to almost automatically in order to generate the tour.
At Floorfy we put both technologies at your disposal for your clients, therefore, when the time comes of contracting the services for the creation of virtual tours for real estate, you can easily create this innovative way of showing the properties; by yourself.
In this video, you will see how easy it is to capture the images that will form part of the tour without leaving any details behind.
Having a tripod is key for capturing every detail of the property, as well as a 360º camera with a WiFi connection so you can instantly appreciate how each image would be viewed digitally.
Once you have captured each room in the house, you just have to upload the images made available to you by the Floorfy editor. You can do this through the following procedure:
7. Which 360º camera would work for my real estate agency?
There are two main factors that will determine the quality of the images that will make up the virtual tour:
- Megapixels
- The screen resolution of the video
In the first case, we are talking about cameras with a remarkable quality, those that exceed 10 MP. In the second, the average of a high-quality video is 1080p. (the maximum resolution used in high definition television, measured by lines per screen).
To help you, we have compiled information on 4 different models of 360º cameras and we have added a virtual tour in which you can see first-hand the quality and the result that each one offers you.
8. Advantages of 360º cameras for real estate
Today, the most common method by which a client decides to visit a home of their interest is no longer the description (through which they will learn the size, number of stays, cost and location), but the images shown of the property.
Thus, the better the quality of these images are, the more they reflect the reality of the home and the more details they show about it thus the less complementary information you will need and the more time you save.
The problem arises when the images are scarce or are not considered realistic enough by the user to be able to imagine themselves inside the property, requesting more information from the real estate agent or scheduling potentially unnecessary visits to the apartment.
The simple solution to this is to create virtual tours of the property, made possible by capturing images of it with 360º cameras. This technique does nothing short of capturing all the perspectives that can be had of a room, which are subsequently mounted in a gallery and are presented in such a way that, you can move around the property in the sequential order that you want and stop at every detail that catches your attention.
By using this method, in just two or three minutes, you can tour an entire house and have the information and the perspective of its exact state as if you had visited it. This is something you can do from home, on the way to work, on the train or at the real estate agency to assure the client that they are looking at the property they want.
From all this, we could summarise that virtual tours replicate the experience of visiting a property with total realism, which avoids unproductive appointments, doubts to resolve and, ultimately, an unnecessary expenditure of time (and with it money).
Image from Deposit Photos