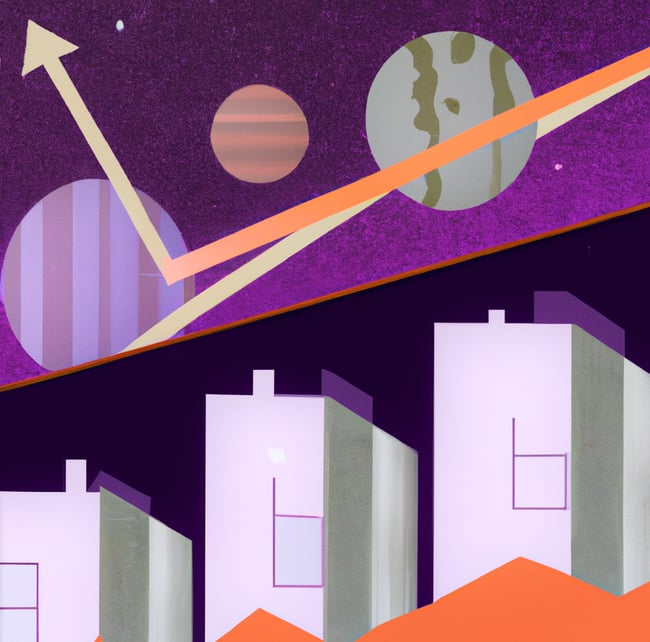 5 Real estate trends for 2023
One sector that is constantly changing and evolving is the real estate market. Therefore, it is crucial that we stay on top of the latest trends, news stories, and market shifts, especially to stay ahead of the curve as real estate agents. Our clients expect us to be knowledgeable in our field, so it is essential that we regularly read up on and engage with current trends. Let's have a look at five current industry trends shaping the real estate sector in 2023.
1. Shift towards remote work
As a result of the covid pandemic, many people experienced an immense shift towards remote work and this trend does not seem to be slowing down anytime soon. Many companies are now offering employees the option to work remotely full-time or part-time, meaning that people no longer have to move cities or countries for work purposes as often as they used to. As a result of this shift towards remote work, there has been an increase in demand for larger homes with dedicated office spaces and good internet connections – something that savvy real estate agents should keep an eye out for when marketing properties.
2. Rise of smart home technology
The use of smart home technology is becoming increasingly popular in residential real estate. Smart home tech is any device or system you can manage remotely from your phone or another mobile device. Examples of this type of tech include security systems, thermostats, lighting systems, door locks, and more. Smart home technology gives homeowners more control over their homes and makes them more secure, which is why it is so attractive to prospective buyers.
3. Growth of online real estate services
Online real estate services have grown significantly over the past few years, and have really taken off in response to the pandemic. Many buyers and sellers are choosing to use online tools, such as virtual tours, real estate CRMs, home staging, marketing automation tools, and document management softwares. In particular, video tours have proven to be an effective tool for showcasing properties remotely, allowing potential buyers to get a detailed look at a home without having to physically visit it. Meanwhile, CRMs are showing themselves to be invaluable tools for many, assisting businesses in building and maintaining strong relationships with clients.
4. Rebound of luxury homes
After suffering from a decline during the pandemic, luxury homes are bouncing back in 2023 thanks to increased confidence amongst buyers who feel secure enough in their finances after the economic dip in 2020-21. Luxury homes offer buyers higher quality materials and finishes than regular housing stock as well as additional amenities like swimming pools or spas – appealing features for those looking for something extra special! Agents working in this sector should focus on luxury lighting fixtures, high-end appliances, and unique design elements when marketing these properties.


5. Sustainability

As sustainability issues keep being pushed to the forefront, property owners face the difficult challenge of making wise investments now to protect their buildings and build resilience against climate-related incidents such as extreme weather events. The market is also being increasingly pushed by regulators and investors for higher ESG (Environmental, Social & Governance) disclosure standards so that environmentally sound practices can collectively have an impact. It is clear that climate change has firmly established itself as a prominent factor in the commercial real estate market, presenting both risks and opportunities.
Conclusion
These are just a brief outline to highlight five of the many current trends influencing the real estate industry right now – but they are definitely worth keeping an eye on. We would strongly recommend researching these trends further and considering the implications for your business. Staying up-to-date with current industry trends can help you better understand what your clients are looking for when buying or selling a property.