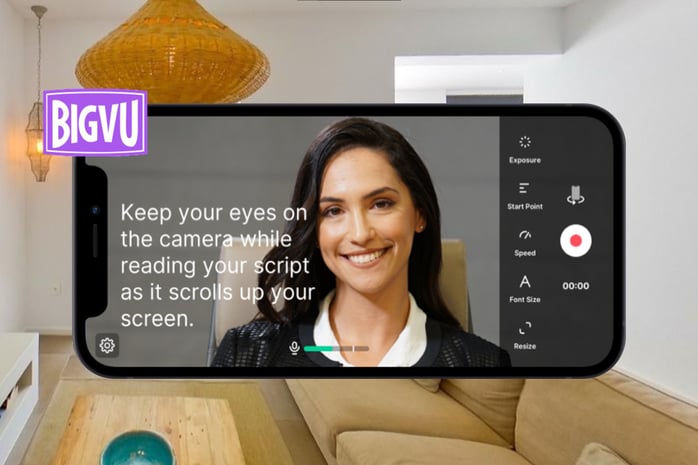 9 Reassons why using BIGVU app for real estate videos
The use of real estate videos has become an increasingly important part of a real estate agent's marketing strategy. In today's digital age, creating personal high-quality videos is essential for building a strong personal brand and connecting with potential buyers. If you want to learn more, check out this links for you:
Every good video starts with a good script. Lacking inspiration? Do not hold off on writing your script: say or write a few words to describe what you have in mind, BIGVU's AI Magic Writer will take care of the rest, suggesting at least 3 different scripts, for the same brief, which you can then edit. That will ensure that real estate agents deliver a captivating and engaging message. Furthermore, BIGVU also seamlessly integrates all social media channels for efficient video sharing across multiple platforms, making it easier for real estate agents to maintain them all updated.

Then BIGVU enables real estate agents to present themselves in a polished and professional manner, making a positive impression on potential clients. The teleprompter allows you to concentrate on expressing convincingly what you have to say, rather on having to remember what you want to say. You can make eye-contact with your audience, to build trust.

With its automatic captions feature, real estate agents can easily add captions to their videos, making it more accessible and appealing for their audience.

Customizable video branding is also made easy with the use of a personal logo in the BIGVU app, allowing real estate agents to put their unique touch on their videos. Moreover, BIGVU also offers video landing pages with call-to-action buttons, allowing real estate agents to generate leads through their videos and online content.

In this article, we will explore 10 reasons why scripting, using a teleprompter, adding automatic captions and branding your video is essentia in the real estate industry. Through concrete examples of BIGVU's capabilities, we will illustrate how real estate agents can benefit from using a teleprompter app in their marketing efforts.
🎥 9 Ways to Supercharge Your Real Estate Videos with AI Scripting and Teleprompter Apps
🤖 AI Scripting: Your Personal Writing Assistant
In past years, realtors often relied on hiring professional writers or individuals with exceptional writing abilities. However, given the current economic climate with rampant inflation and decreased home sales, this is no longer feasible. Real estate professionals now need cost-effective solutions.
Enter AI scripting, a game-changer for your creative process. If you're an iPhone user, simply speak to the BIGVU AI Magic Writer and it will provide you with three script suggestions instantly. Android and PC users can just jot down a few important keywords, and the AI Magic Writer handles the rest. It's akin to having a personal assistant help you craft a letter. The majority of the time, the provided scripts will be ready to use without any edits, as we've meticulously calibrated the system to meet your needs.
📱 Utilize Teleprompter on Your Computer or Mobile
BIGVU offers a top-notch teleprompter on both mobile and desktop platforms. If you're planning to record in an office setting in landscape mode, and your computer camera is up to the task, we recommend using your computer. The script will cover most of your screen, enabling easy reading.
However, if you're looking to record in portrait mode, your mobile phone is the ideal choice. You can hold your phone in your hand to foster a sense of intimacy with your audience. Alternatively, a selfie stick can be used to establish a bit of distance. The optimal approach is likely to present yourself standing, using an inexpensive and readily available phone stand. This way, agents can focus on maintaining eye contact with the camera and exuding confidence, fostering trust with potential buyers and sellers.
🎬 The Benefits of Using BIGVU
🚫 Minimized Mistakes
Teleprompter apps help agents ensure that they touch upon all the crucial points they wish to cover in the video. This decreases the likelihood of omitting essential information or making errors.
🔁 Consistency
BIGVU aids agents in maintaining a consistent, polished delivery in all their videos, regardless of their comfort level in front of the camera. The brand configuration feature helps maintain the same style across every video published.
⏱️ Enhanced Time Management
With all the necessary information readily visible, agents can save significant time and reduce the need for multiple takes.
🌟 Engaging Content
BIGVU assists agents in creating more engaging content by providing the ability to incorporate multimedia elements such as images, slides, and music.
✅ User-Friendly
Designed for ease of use and quick setup, BIGVU makes high-quality videos achievable for agents of all technical skill levels.
👍 Improved Video Quality
BIGVU aids agents in producing more professional videos by eliminating the need for messy notes, cue cards, or an overly rehearsed delivery.
📝 Better Preparation
A teleprompter app allows agents to prepare their videos ahead of time, reducing the stress and pressure of on-the-spot improvisation.
💡 Conclusion
Ultimately, a teleprompter app for real estate videos candramatically enhance the overall quality and professionalism of your content. It empowers real estate agents to present themselves confidently, reduces errors, and enables the creation of more captivating content. With its user-friendly interface and affordable pricing, a teleprompter app is an invaluable tool for any real estate agent aiming to make a strong impression on potential buyers.
Whether you are an experienced real estate professional or a newcomer to the industry, a teleprompter app can assist you in creating polished, professional videos that distinguish you from the competition. Embrace the future of real estate marketing with AI scripting and teleprompter technology - your audience will thank you.