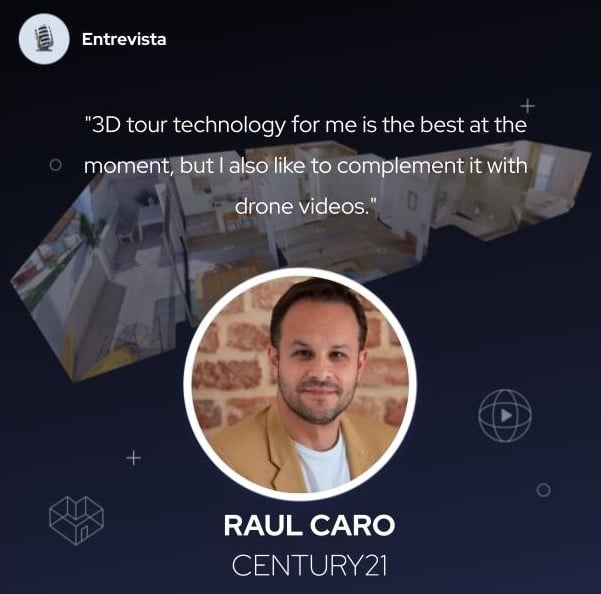 Interview with Raul Caro from Century 21
1. Tell us a little about yourself. What motivated you to become a Century21 real estate agent?
So, most foreigners live on minimum wage, then I accepted the challenge, (I had sent the resume in a job ad) at first I thought part time to be able to learn and if successful, just have the job of real estate consultant, which I did after months of learning, which yes, it helped me to reach my achievements and security in being full time.
2. What previous experiences in other sectors have helped you in your work?
I started working at 18 in a notary's office. At 24, I worked in a bank, and after leaving the bank, I spent 10 years in my own financial company in Brazil. I decided to move to Europe due to how Brazil was.
3. Your work has been recognized with awards for the best real estate company. What is the difference?
After I stopped being part time in October 2021, in which I reached in those three months the Ruby award (50 thousand in turnover), I thought that in 2022 at least I needed that 50 thousand, but in January 2022 I had already reached that value, I thought then that I needed to reach 100 thousand, but thank God in October 2022 I had already earned more than the 150 thousand needed for the Centurion award, something that few reach in their years of work.
4. Can you tell us about a recent interesting transaction you did?
It was a self selling, I contacted and scheduled the visit, in his ad contained a footage, I do a comparative market analysis before the first visit, because sellers today, do not want a visit and then another to give our market value, it happens that the ad contained 770m2, but I already knew the imovel and found 770m2 too much for that imovel. I measured on google maps and it was around 460m2, I did the evaluation on the 460m2 and showed that the value of the square meter of it was very good. However, people never bought with it; they came on the property and did not like it. The psychological 770m2 is very different from that less than 500m2. He asked me how I knew about this area, the various colleagues never said anything on the visits, being that his father already had yes he sold part of the lot, however they still had not arranged the documents and neither knew how to do it. Once again I showed my work and how he did it to arrange.

He said: "I do not work with Century 21 for other reasons in the past, but since no one told me the mistake, he would give me the opportunity to promote the property for sale" Which thank God he complied and I besides all still sold!
5. What techniques do you use to attract owner-clients?
Nowadays, my trajectory helps me to win awards, but it is always noticeable that I am up to date with the latest news, such as the 360 and 3D tours that I have you as partners.
6. Why do you use Floorfy?
I investigated the others, but I was very well attended by Rafaela and the price also helped me a lot in this decision. Despite being Centurion, it is not easy to invest a lot, because the commission only comes with the success of the sale, which does not always happen.
7. What other technologies do you recommend using?
3D tour technology for me is the best at the moment, but I also like to show and view real estate with drone videos.
8. How do you keep up with industry and market trends?
Century 21 Realty Art where I currently work has monthly meetings of everything that happens in the real estate market, with that I always grow.
9. What do you think is special about the Portuguese real estate market?
Values! Because they are still very attractive in the market, despite the fact that properties in Spain are already obtaining better values.
10. What would you recommend to those starting out?
Always look for the best. That does make a difference, do not always start at the best. I for example started at Century 21 in an agency with 8 consultants, two and a half years later I was hired by another Century 21 for a fine of 18 thousand euros plus VAT. Today I am in the best, but do not be discouraged. I started and more than a year and a half in part time, because the beginning is not as one imagines.
11. How important is personal branding and how do you work on yours?
Total influence in the real estate sector among the Tops, so much so that I have already created a logo and I invest more in it every day.
12. Why not switch from Century 21 to another real estate network? Even more that you would not have this fine of 18 thousand plus VAT.
The Century 21 brand do have problems, but I always seek to show the flaws and make the brand better. As in any place, nothing is perfect, choose one that you like the way they work, what they offer and with that despite the invitations from almost everyone, choose to be and remain a Century 21.