Floorfy Partners with Insta360 Enterprise to Revolutionize Automatic Virtual Tour Solutions
Floorfy has announced a long-term strategic partnership with Insta360 Enterprise, a global leader in 360-degree camera technology. This partnership delivers cutting-edge virtual tour solutions to businesses worldwide.
Through this collaboration, Floorfy users can leverage the power of Insta360's flagship virtual tour cameras, theInsta360 RS 1-Inch 360 and X3, to take their real estate business to the next level.
About Insta360 Enterprise
Founded in 2015, Insta360 creates boldly innovative products that help people capture and share their lives. Insta360 Enterprise is committed to exploring cutting-edge technology and providing partners with high-quality, easy-to-use and efficient imaging solutions and customized services.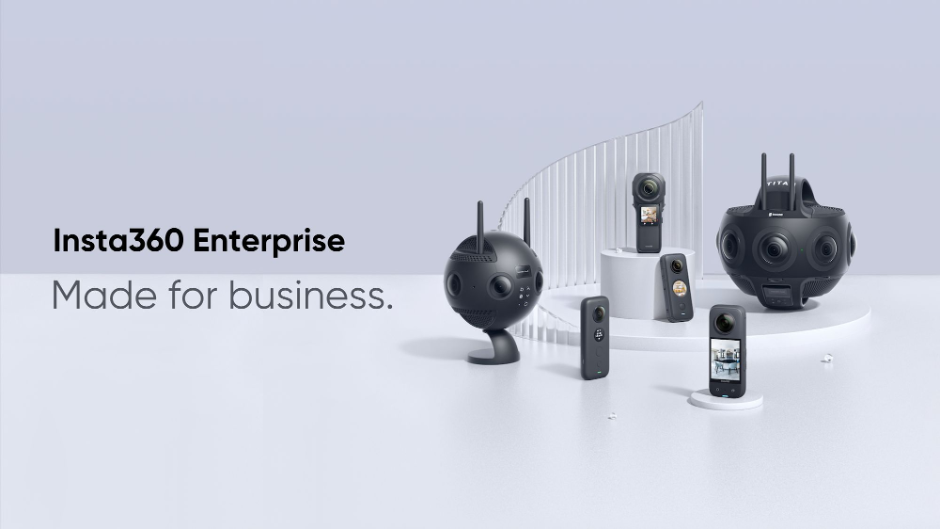 Leading the industry transformation, Insta360 has successfully integrated 360 cameras into traditional workflows. Its enterprise services are widely used in real estate, AEC, mobile mapping, VR live streaming, street view and many other fields. It has facilitated technological upgrades for partners in over 14 industries and nearly 100 countries and regions worldwide.
Why Insta360 cameras are perfect for Floorfy virtual tours
1. Fast & easy setup
Shoot a space with RS 1-Inch 360 and X3 cameras in a matter of minutes. With their user-friendly interfaces and vibrant touchscreens, these cameras are incredibly easy to use. They even offer WiFi preview, allowing you to shoot from a different room without compromising the view.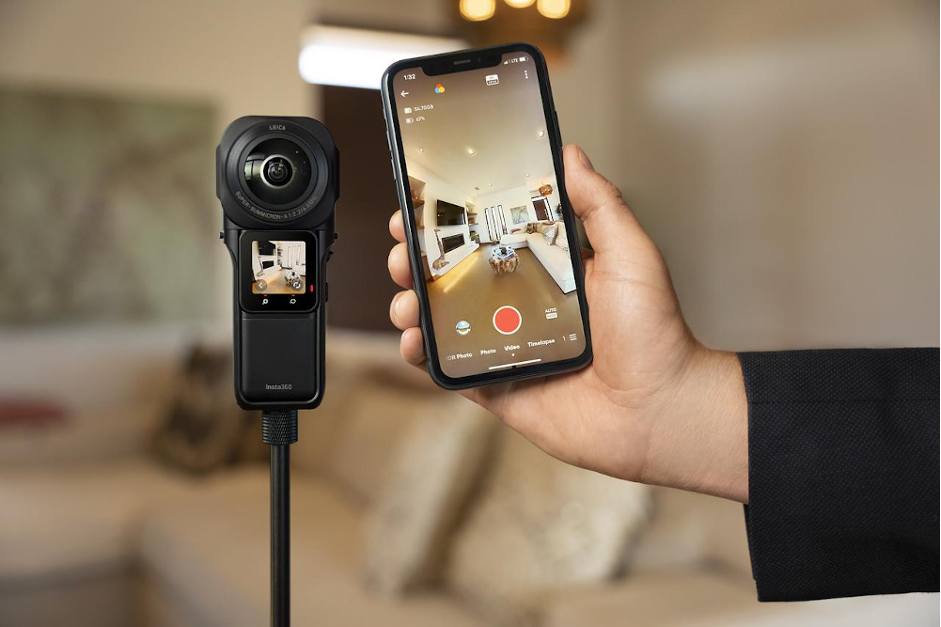 RS 1-Inch 360 weighs just 8.4oz (239g) and is a compact 13cm in height. A pro-level setup you can take anywhere!
2. Immersive experience
To create an impactful experience for your customers, clients, or employees, you need a detailed and realistic 3D space.
RS 1-Inch 360 captures 6K 360° videos and 21-megapixel 360 photos, providing exceptional imaging and dynamic range with its dual 1-inch CMOS sensors. Even in challenging lighting conditions,, this camera excels at capturing every detail of a space. The X3 camera offers 5.7K 360 video recording, impressive 72MP photo resolution, Active HDR, and the ability to capture stunningly detailed and immersive footage.
All this puts RS 1-Inch 360 and X3 head and shoulders above other 360 cameras around the same size and price.
3. Value For Money
Compared to professional setups that can cost thousands of dollars, Insta360 cameras offer outstanding value. The Virtual Tour Kits come complete with everything you need to get started, including the camera, selfie stick, tripod, lens cap, and a 64GB memory card. Refer to the price plan for the RS 1-Inch and X3 cameras below.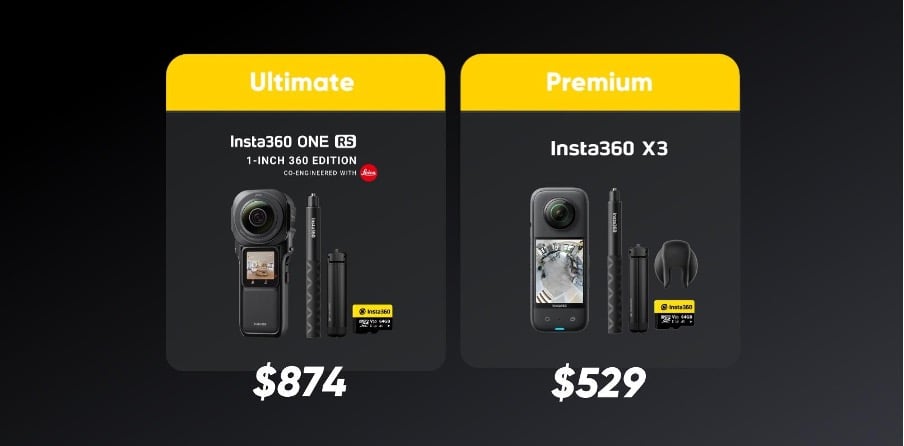 How to elevate your business with Insta360 X Floorfy virtualization solutions
Creating a virtual tour is… surprisingly easy!
Armed with just an Insta360 camera, tripod, and your phone, you'll be producing high-quality, immersive virtual tours in no time. The following guide will walk you through the necessary equipment and steps to shoot and share your Floorfy virtual tours:
Download the Floorfy app from the App Store or Google Play Store. After logging in, click on the "+" button to enter the title, specify the distance from the ground to the camera (we recommend 150cm), and connect your Insta360 virtual tour camera to your phone via Wi-Fi.
Press the capture button to scan a scene, then move to the next point in the scene to capture the entire property.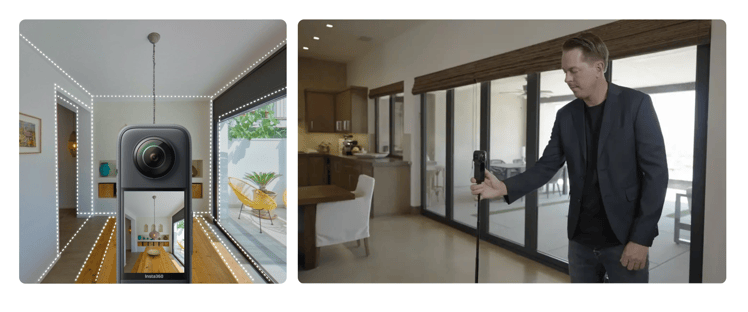 Once you have finished scanning, the Floorfy app will generate your 3D virtual tour, property floor plan, HD photographs, and commercial video. With these assets, you can showcase your virtualized property, create dimensioned floor plans and engaging real estate videos.

Share your virtual tour on real estate portals, websites, and social networks to reach a wider audience. You can also leverage video calls and open-house events to facilitate remote visits, allowing potential clients to explore the property virtually. Impress your clients by sharing your 3D Home tours using shareable links or embed codes.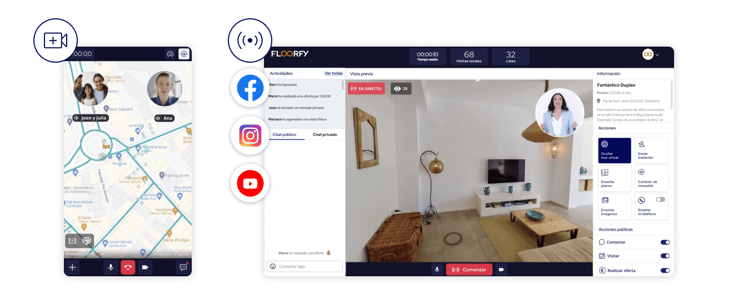 Explore a tour captured with the Insta360 X3
The real estate market requires innovative strategies more than ever before, and the partnership between Insta360 and Floorfy delivers just that. By developing an exceptional virtual tour solution, this partnership will elevate your real estate projects to new heights. Take your real estate marketing to the next level and explore more possibilities with Insta360 and Floorfy today!
There's also the Insta360 Enterprise Community on Facebook where you can talk to fellow professionals and see what they're creating. Or, feel free to contact their Enterprise team directly to see how 360 cameras can benefit your business.