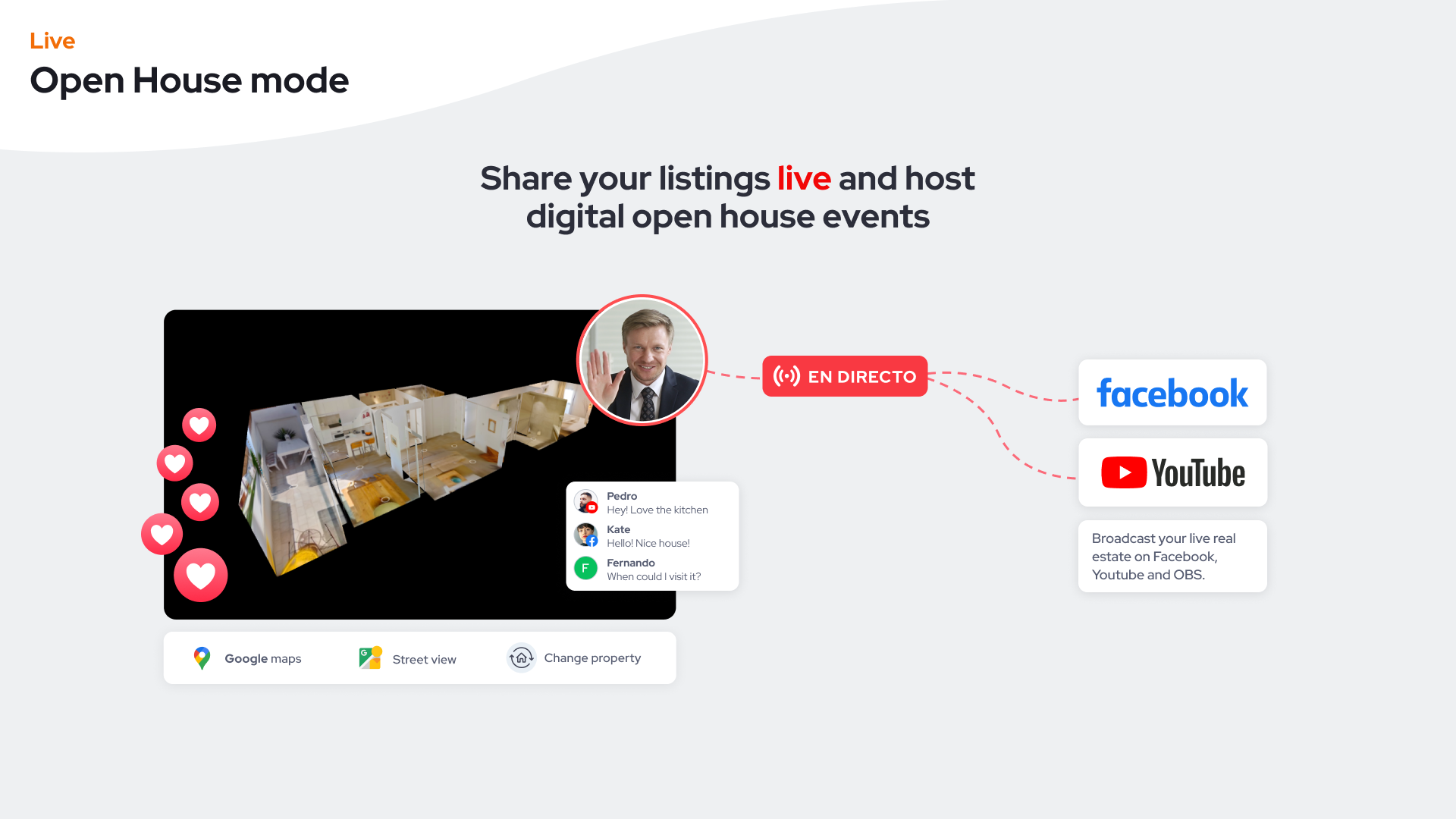 How To Do a Live Real Estate Open House Event
Virtual open house live events are changing the way people buy and sell homes. With the rise of digital technology, real estate agents now have access to powerful tools that allow them to showcase properties in new and exciting ways. One of the most innovative features available with FLOORFY is the virtual open house event, which enables agents to go live and showcase a virtual tour of a property to an engaged audience.
As more buyers and sellers are turning to virtual tours to view and showcase properties from the comfort and safety of their own homes. In this article, we will explore the benefits of virtual open house events and how they can help real estate agents connect with their audience and sell more properties.
Index
What is a Virtual Open House?
Virtual open houses are a live, guided tour of a property for sale, of which multiple potential buyers can access at any one time. Like those carried out in person, virtual open houses provide a window of time in which potential buyers can view a property and bid on it.
However, rather than both parties spending time and money viewing a property in person, Floorfy's software enables these events to happen virtually. Real estate agents can therefore use this tool to conduct open houses for multiple users at a time, giving tours of a house whilst answering questions and conducting negotiations, all completely online.
Why use Virtual Open Houses?
Virtual open houses are another example of how they real estate sector can benefit from virtual tours for real estate. Here's why:

- Save time.

In as little as 20 minutes, estate agents can perform the same tour that previously would have taken an entire afternoon of visits, speaking to multiple potential buyers at once.
- A personal service.

Similarly, agents can continue to provide a personal touch to their property tours from anywhere in the world, answering questions from buyers and clarifying details which cannot be explained with video tours alone.
- Ask public and private question.

Buyers can use a private chat bar to ask questions specific to them, whilst the agent is able to identify and address common queries through public chats.
- No geographical limits. Virtual open houses are also available for prospective buyers, irrespective of time zone and geography. Therefore, they remain an option for those who cannot attend a property in person, driving up competition.
- Make offers from home.

In some cases, the sale of a property is carried out completely virtually. Open House Virtual allows buyers, if they want to, to secure a property in the comfort of their own home.

How does it work?
By using video-conference technology integrated into the virtual reality software, real estate agents can give live personalized tours of a property to multiple users at once. These users can join by simply clicking on a link.
The software allows agents to give a commentary accompanied by a video tour of the property, whilst answering both public and private questions given by the users. Potential buyers can also make offers throughout the event, enabling negotiations to be carried out entirely online.
If you would like to learn more about how virtual open houses can be incorporated into your real estate agency, simply contact us from our home page.