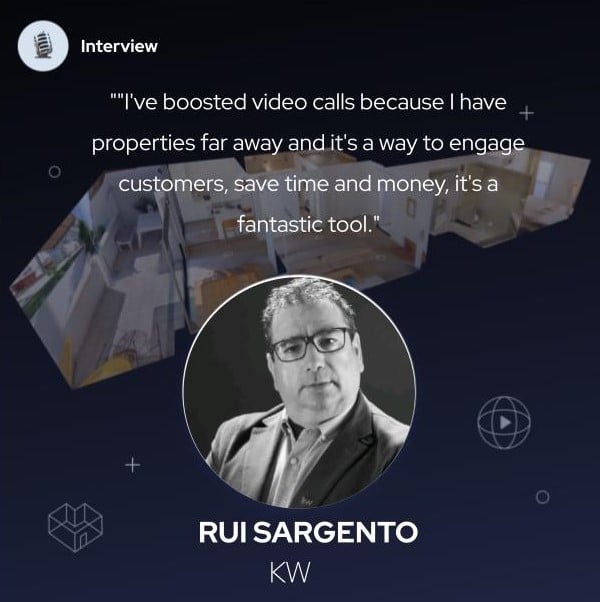 Interview with Rui Sargento from KW
1. Tell us a little about yourself, how did you start working in real estate?
With the COVID, part of my business was damaged and I looked for new solutions to overcome the difficulties. I found KW, the pandemic gave me the opportunity for intense training with the best and I had this privilege because life at its normal pace would not be possible.
2. Tell us a little bit about how you got to your current position
Taking advantage of all the contacts from the different professional activities I had in the past. I started sending emails, making calls, sowing a lot of rupture with people that my new activity is real estate and I have managed against all odds to conquer little by little my market share and with the support of my MarketCenter and a great team.
3. In your opinion, what characteristics should a real estate agent have?
First of all, to be trained to know how to talk to clients, buyers or owners. To be patient and to know how to listen, to be surrounded by good working tools, to have a very good legal department, to be up to date in the real estate market.
4. Describe a typical workday for you
Arrive at the office and for at least an hour, check and answer emails, look at meeting agenda or mark new meetings, take a Virtual Tour, take photos, film with a drone, leave instructions to research new properties, new contacts, update social networks and lots of phone calls, schedule the next day's agenda.
5. What do you like most about working for KW?
Working without pressure, a lot of exchange among KW agents, continuous training in all areas, the technological tools, the possibility of accessing consultants in 52 countries and in my MarketCentre in São Paulo, the people on the team always available to help, a special way of working in the real estate sector.
6. Which properties are currently the most sought after by buyers?
It varies a lot in the different areas of Portugal. In the area where I live, apartments are the most sought after property, as in the whole country. In my area of inland Portugal, agricultural estates are very sought after by international investors, English properties of 1 or 2 hectares, stone houses away from urban areas. In the Lisbon and Algarve area we have potential international buyers in Luxury Real Estate.
7. How have the needs and demands of your clients changed in recent years?
This is a question with many possible answers depending on the clients with more financial resources, but the new generation of clients in my opinion is no longer thinking about getting married, having a house, assuming a responsibility, the paradigm has changed, they want to travel, travel the world, think about their professional area, they prefer to rent and only later think about assuming other responsibilities. In my opinion, with the cost of living going up, there may be a return to the origins in the near future, but Portugal is increasingly inhabited by people of other nationalities.
8. What mistakes has the sector made in recent years and what have you learned from them?
Nowadays we are trained to avoid mistakes, but I defend that it is very important to have the documentation up to date because businesses can fall down due to the waiting time to legalize. Qualifying buyer clients is very important, and in case of a contract, it can be a waste of time. Knowing how to make a good market valuation to have a good price for the property. What I learn every day is that it is wonderful to meet people and when it goes well they are happy and that is also the mission of a real estate agent not to mention the bonds we create.
9. What advice would you give to someone who is starting out in real estate?
When you decide to start in this sector it is not an easy task, you have to have a good training to be within this sector, work hard, sow a lot to harvest, have a side job initially to pay the bills because only after 3 years we can be consultants with the income flowing.
10. What changes would you like to see in the real estate sector in the coming years and what are the future challenges in this area?
There should be more supervision by the competent authorities, because there are many people in this sector who do not know what they are doing, unfortunately the ethics of sharing among advisors is getting worse and worse. In the future whoever is into new technologies, has an understandable database, being professional to be recommended by clients will win but the biggest challenge in my opinion will be the proprietary plants that will possibly replace the consultants.
11. You use video calls and Open House a lot, how is your experience and the receptivity of the clients about these tools?
I have promoted video calls because I have properties very far away and it is a way to attract customers, a way to save time and money in travel, of course if the client likes it then we go in person to visit him, for me it is a fantastic tool. The Open Houses I have done some experiments to improve the results I have been able to do them at night after dinner (21h for example) but I see that there is still a long way to go because it is not usual to do it that way. But I am persistent and the results are coming.
12. Why did you decide to digitize your real estate?
For a long time in other areas I have always worked with digital and I have always had results and that is why when I entered this branch I already had part of the work done and adapted, it was as if I had built something in the past for the Real Estate.
13. How has this digitalization changed your way of working?
I don't work only in digital. I am in a part of the country where older people still don't have internet, so I have to use paper brochures and business cards to attract clients, then I use digital to reach buyers all over the world. Without digital, it would be very difficult and the future is going to be digital whether we like it or not. Whoever doesn't adapt will fall by the wayside.
14. How have clients liked the digital changes?
In my social networks, I try to monitor the properties in a visually friendly way so that it is not boring to see only the properties. I mix it with other information from other activities that I do in the company of various events that I use to promote my image as a consultant and I use this information to mix it with the properties and it ends up working because my followers receive other information without it always being properties and it works.
15. Which social networks do you use the most and which one do you think gives the most results?
I use many platforms, Idealista, Supercasa, Imovirtual, Olx, Janela Digital, James Edition, LG Portugal, Listglobally, Kw Portugal, kwlead, Floorfy itself, Social networks, linkedin, Instagram, Twitter, Youtube, facebook, Tiktok, Whatsapp and Telegram . The best results in Supercasa, Imovirtual, Facebook Marketplace and Linkedin the Youtube I am in the process of getting subscribers, as it is a very powerful tool for videos .