The real estate sector in Spain is becoming increasingly competitive, demanding and professional. Accessing available customers and satisfying their requests and demands requires being technologically prepared. Therefore, having a leading CRM for real estate services is presented as a differential advantage and, of course, as an accelerator of business performance.

However, faced with the variety of available alternatives, we often wonder which of them we should choose: which option is the most complete, reliable, attractive and in line with the current demands of real estate agents and companies? The answer has a name: Inmovilla.

What is Inmovilla

Having a real estate management software is a strategic decision that has a powerful influence on the development and success of any real estate organisation.

Inmovilla, after 15 years of service, has become the best CRM specialised in the real estate sector thanks to its incredible evolution. Nowadays, it incorporates a global assistance that improves most of the fields of activity in the real estate field.

Inmovilla fully manages each agency or real estate initiative, boosts business growth and is presented as an economical alternative that does not require permanence. Its qualities are so many that new clients are quick to ask themselves why they have not opted for this software before.

What does Inmovilla offer?

Think about the different fields of management and action required in the real estate business. Would you like to have a reliable and optimising technological support in each of them? Exactly! This is what this leading management software provides.

In the abstract, it is perhaps a little more complex to imagine the importance of this technology. But when you look at the individual features it provides, it becomes clear how important it can be in simplifying and optimising the tasks you manage:

- Fully customised website - Nowadays, a real estate agency is condemned to emptiness and ignorance if it lacks an effective website. This tool incorporates some thirty SEO-optimised, responsive templates specifically designed to satisfy potential clients. From them, customised designs and developments can be applied with guaranteed success.
- CRM to manage customers - Through it you will get to know your customers better, you will be able to personalise your proposals and identify their needs and economic requirements, in order to adapt to them quickly and reliably. It allows you to create and manage a customer database, obtain analytics and access them from any place or device.
- Real estate marketing - The commercialisation and marketing strategy of a real estate company is based on a series of well-known and valuable real estate gateways. Thanks to this software you will be able to upload your offers to your own social networks and all these platforms, 24/7, every day of the year. It is also an exceptional manager and support for designing and carrying out e-mail marketing campaigns: would you like to send personalised offer sheets to the right customers in just three clicks?
- Real-time analytics - The generation and management of statistics and reports, based on real facts, are carried out from a single software. They are fully accessible and make it possible to identify which properties are the most visited, which agents fulfil their role best or how to advise clients.
- Functionality and service - This CRM is a very valuable tool for achieving challenges and objectives. It does not require a huge investment and is very easy to use. In addition, it is managed through the cloud and is therefore accessible from anywhere in the world. In addition, it is managed through a single interface, which simplifies all processes.


In short, Inmovilla is a substantial, essential support for selling or renting more properties, boosting the growth of the real estate company, getting to know its clients better and having the possibility of pampering them by offering them, at all times, what they really want or desire.

It is no coincidence that 90% of Spanish MLSs and real estate groups are currently working with Inmovilla.

Benefits of the agreement with Inmovilla

The collaboration agreement reached between Floorfy and Inmovilla is an additional advance in the optimisation of the service of this CRM.

The collaboration agreement reached between Floorfy and Inmovilla creates a great opportunity for real estate agencies as it represents an additional advance in the optimisation of the service of this CRM.

Its users acquire the possibility of having virtual tours of their properties from their usual management tool. In this way, they are in a position to impact and seduce their audiences more.

The union with Floorfy will bring great benefits to Inmovilla and its users, because it allows them to incorporate a professional solution capable of facing the new communication challenges in the sector. In this way, Inmovilla provides its customers with a more complete and renewed technological product because it is also optimised in its communication aspect.

By acquiring this CRM, its users will be able to add a quality and one hundred percent reliable virtual tour of the available properties. Learning and management are carried out from a single platform, which greatly simplifies the process.

This strategic alliance is, in short, an added opportunity to incorporate better management and promotion features through software that was already a technological benchmark. Now, it includes a cutting-edge feature that can contribute to boosting the sales of the real estate agencies that choose it.

The importance of real estate digitalisation

Digitalisation is now a requirement in all sectors and areas of activity. It is no longer an option, but a real necessity that cannot be postponed. In the real estate field, this reality is multiplied exponentially.

It is essential to adapt to the new times in order to meet the needs of the market and its customers better and on time. Real estate companies that are not digitised will soon disappear inexorably.

Big Data is already a crucial tool in this professional activity. Customers access available offers through the Internet and its satellites, so it is essential to develop in this scenario in order to meet business objectives.

In this context, having a leading CRM for real estate services, such as Inmovilla, makes all the difference. In the same way, having the support of quality specialists such as Floorfy is decisive to stand out from the competitors and sell more and better.
Webinar with Inmovilla and Alberto Conesa!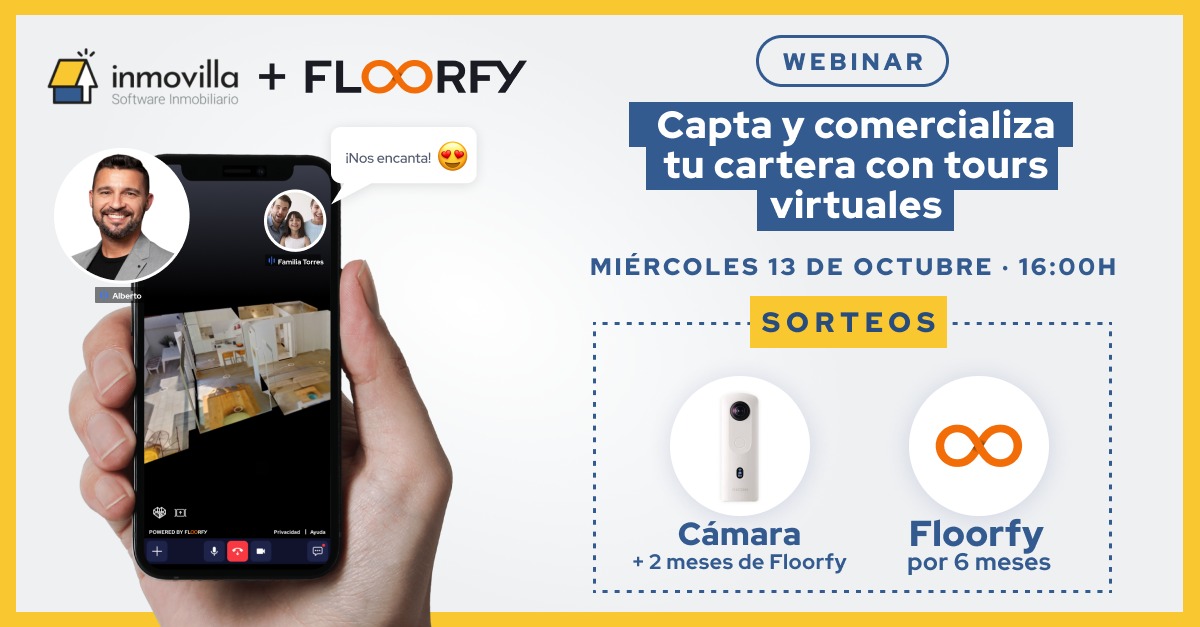 ❤️ We love to help the #real estate sector! That's why today (Wednesday 13th October) we're doing a Webinar together with Inmovilla and Alberto Conesa! We'll talk about:

✅ how to capture and market your portfolio with virtual tours.

We also have raffles:
👉🏻 Camera + 2 months of Floorfy.
👉🏻 Floorfy for 6 months